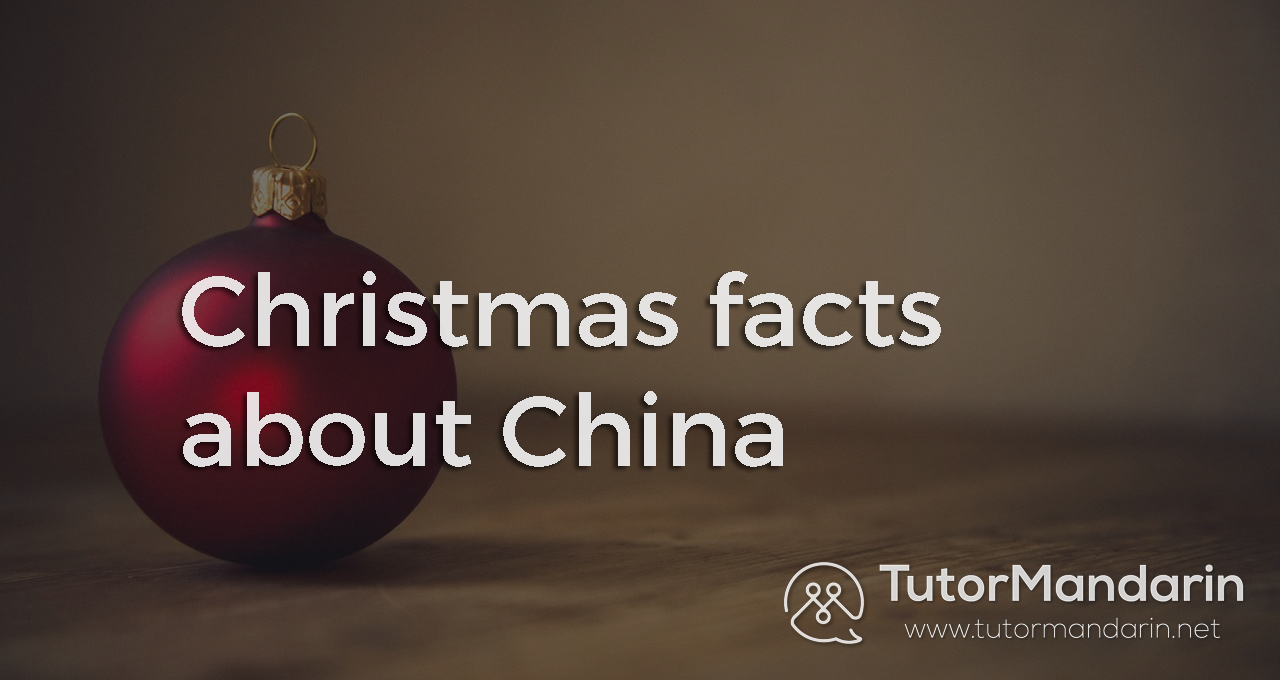 With a table, full of mouth-watering delicacies, and shopaholic annual procurement, Westerns celebrate Christmas very hard! But on the other side, what does a non-Christian country like China spend this western holiday? Today at TutorMandarin, we will unmask the secret of Christmas in China and teach you some Christmas greetings in Chinese.
Even though, there are just 1.74% (23.22 million) Christians in China celebrate Christmas, some western companies have Christmas parties, too. Hence, you may should know some phrases to do some small talk and Christmas greetings, too.
Sign up here for a free trial at TutorMandarin. We offer you a professional 1-on-1 class with a Chinese native speaking Tutor. Give it a try and learn how to talk about daily content, as also as business topics from our professional Mandarin Tutors.
Let's start with some facts about Christmas in China and Christmas greetings.
The first fact: There is no day off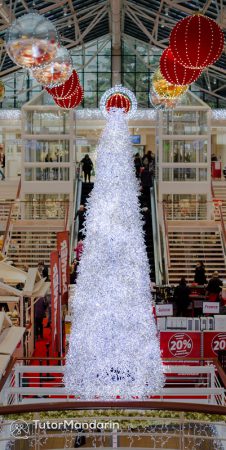 Christmas is not considered as a public holiday and people don't get a day off.
Christmas, long banned in China along with Christianity itself (It's true that Chinese Christians still must face the restrictions from the communist government), is a fascinating Chinese contradiction. It is a booming business and extremely-popular holiday in this country! Per China Daily, Christmas Eve is the biggest shopping day of the year.
So, it is not surprising to see that the streets are ablaze with lights in shape of Christmas ornaments especially in shopping districts of big cities. Starting to decorate already in the middle of November, famous western companies know how important this time of the year is for their business, although in China. LEGO for example build up a LEGO Christmas house in Taipei this year to promote their Christmas sets intensively. Other shops and brands are also promoting lots of Christmas style wrapped commodities and offer special discounts in China during this period!
And of course, they don't really know about or promote with "Jesus", but more like Americans with "Santa"!
** Christmas is being accused by some Chinese nationalists as the Western tool for using the holiday as a tool of foreign imperialism.
The second fact: Chinese (especially youth) however, celebrate Christmas as a carnival time.
Not having a religious background, Chinese would rather go to some more exciting places with their families, friends, and loved ones. Thus, Christmas is treated like Valentine's Day! The typical ways to celebrate these days include watching a movie, or going to a karaoke bar (Asian style one).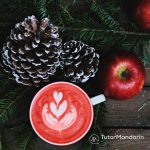 The third fact: Some of them eat apples on this day
For Chinese apple (苹果 – píngguǒ) sounds like the Chinese word for peace. People believe they will have peace in the upcoming year by eating an apple. So, if you got no idea what to give to your Chinese friends, this might be a good choice!
The fourth fact: It's the timing to express goodwill and philanthropy
Chinese Christmas day is also an occasion to share goodwill and be generous to people in need like orphans, elders living alone, homeless, or disabled people. This is quite like western countries: Statistics prove, that people are more willing to donate money during the Christmas time, hoping that poor people also get the possibility to celebrate Christmas.
So, it nice to see that people like to donate more money to fund raising events, or make some contributions to the charities during this special time in the year, regardless if they are from China or western countries!
Do you know some more interesting facts about Christmas in China? Share your experiences with us! We would love to hear more about it.
We wish a Merry Christmas 圣诞快乐(shèng dàn kuài lè)! Want to learn how to sing a Christmas song in Chinese? Stick to our blog and download the TutorMandarin Chinese Learning App! We will teach you on next post!